Product Description
IN THE BO X
Sales Package
Main Unit
GENERAL
Brand
EPSON
Model
L360
Type
Printer
Color
Black
PRINTING
Print Method
On-demand ink jet (piezoelectric)
Nozzle Configuration
180 nozzles Black, 59 nozzles each colour (Cyan, Magenta, Yellow)
Print Direction
Bi-directional printing, Uni-directional printing
Maximum Resolution
5760 x 1440 dpi (with Variable-Sized Droplet Technology)
Minimum Ink Droplet Volume
3pl
PRINT SPEED
Max Black Draft Text - Memo (A4)
Appro x 33 ppm/15 ppm (Bk/Cl)
ISO 24734, A4
Appro x 9.2 ipm/4.5 ipm (Bk/Cl))
Ma x Photo Draft - 10 x 15cm/4 x 6
Appro x 27 sec per photo (W/Border)
Photo Default - 10 x 15cm/4 x 6
Appro x 69 sec per photo (W/Border)
Double-sided Printing
Yes (Manual)
COPYING
Copy Speed
Max Black Draft Text - Memo (A4): Approx 5 Sec (Draft); Max Colour Draft Text - Memo (A4): Approx 10 sec (Draft)
Copy Mode
Standard copy mode
Ma x imum Copies From Standalone
20 sheets (Button pressing frequency)
SCANNING
Scanner Type
Flatbed colour image scanner
Sensor Type
CIS
Optical Resolution
600 dpi
Ma x imum Hardware Resolution
600 x 1200 dpi
Ma x imum Scan Area
216 x 297 mm (8.5 x 11.7)
Scanner Bit Depth
Colour: 48-bit internal, 24-bit external; Grayscale: 16-bit internal, 8-bit external; Black & White: 16-bit internal, 1-bit external
SCAN SPEED
Monochrome 300 dpi
2.4 m sec/line
Colour 300 dpi
9.5 m sec/line
Monochrome 600 dpi
7.2 m sec/line
Colour 600 dpi
14.3 m sec/line
PAPER HANDLING
Paper Feed Method
Friction feed
Number of Paper Trays
1
Input Capacity
100 sheets, A4 Plain paper (75 g/m Square) 20 sheets, Premium Glossy Photo Paper
Output Capacity
30 sheets, A4 Plain paper (Default Text - Memo) (Draft Tex t - Memo) 20 sheets, Premium Glossy Photo Paper (10 x 15 cm/4 x 6, 13 x 18 cm/5 x 7, 9 x 13 cm/3.5 x 5)
Paper Size
A4, A5, A6, B5, 10 x 15 cm (4 x 6), 13 x 18 cm (5 x 7), 9 x 13 cm (3.5 x 5), Letter (8 1/2 x 11), Legal (8 1/2 x 14), Half Letter (5 1/2 x 8 1/2), 13 x 20 cm (5 x 8), 20 x 25 cm (8 x 10), 16:9 wide size, 100 x 148 mm, Envelopes: 10 (4 1/8 x 9 1/2), DL (110 x 220 mm), C6 (114 x 162 mm)
Maximum Paper Size
8.5 x 111.46 cm (44)
Print Margin
3 mm top, left, right, bottom via custom settings in printer driver
CONNECTIVITY
Standard
USB - Compatible with the USB 2.0 Specification
PRINTER SOFTWARE
Operating System Compatibility
Windows XP/XP Professional x64 Edition/Vista/7 Mac OS X 10.5.8, 10.6.x, 10.7.x
EPSON GENUINE INK BOTTLE
Black
4000 Pages Yield
Cyan, Magenta, Yellow
6500 Pages Composite Yield
POWER
Power Input
Standalone Copying: Approx 13 Watts, Standby: Approx 3.6 Watts, Sleep: Approx. 0.8 Watts, Power Off: Approx. 0.3 Watts
Power Consumption
AC 100-240 V/220-240 V, 50 to 60 Hz
ADDITIONAL FEATURES
Features
Superb Savings and Page Yield; Unsurpassed Print Quality; One Touch Scan and Copy; Space-saving Design
PHYSICAL SPECIFICATIONS
Dimension: (W x D x H)
482 x 300 x 145 mm
Weight
4.4 Kg
WARRANTY
Period
1 Year Manufacturer Warranty
Description
Overview

If you are looking for a one-stop solution for all your printing and scanning needs at your office then you should definitely check out Epson L360 Ink Tank Printer (Print, Scan, Copy). It is nothing less than the best that you can get for your office. Unique blend of latest technology, high quality and efficient performance will surely give you true worth for your money as you invest in this printer by Epson. Order it from Snapdeal to get the best price and deals offered by none.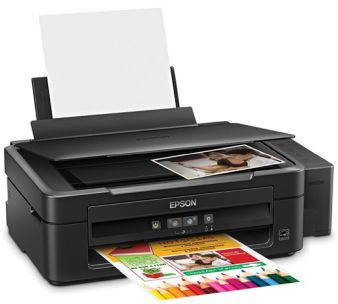 Print Function

Inkjet print technique is used by Epson L360 Ink Tank Printer (Print, Scan, Copy). It consists of 180 nozzles for black colours and 59 nozzles for other colours like yellow, cyan, magenta and many more. This printer can print in both bi directions and uni-direction. Maximum resolution that can be set in this printer is 5760 * 1440 dpi and the MID [Min Ink Droplet] quotient volume of the printer is 3 Pl. It can print 33 papers per minute for black and white A4 document while if it is a coloured document then print speed is 15 ppm. This technically efficient printer will take approximately 27 seconds to print max photo draft while default photo draft can be printed in 69 seconds. You can also do double aided printing by manual settings.

Scanner Function

You will get a flatbed format scanner with CIS sensor in this amazing printer by Epson. Maximum hardware resolution in this multipurpose printer is of 1200 * 600 dpi while maximum scan area is of 21.6 * 29.7 cm. Supersonic scan speed of the scanner makes it the first choice in any office. It will scan a monochrome document of 300 dpi in 2.4 m-sec/line and coloured document in 9.5 m-sec/line. Apart from that it can scan a monochrome document of 600 dpi in 7.2 m-sec/line and coloured document in 14.3 m-sec/line.

Copying

Epson L360 Ink Tank Printer (Print, Scan, Copy) is just not a printer or scanner but can also be used as a photocopy machine. It can copy monochrome A4 size paper in approximately 5 seconds and coloured A4 drafts in 10 seconds. You can get maximum 20 copies at a time in this 3 in 1 printer by Epson.

Connectivity

Epson L360 Ink Tank Printer (Print, Scan, Copy) is a highly compatible printer. It can be easily connected to the system using USB 2.0.

Compatibility with operating System

Epson L360 Ink Tank Printer (Print, Scan, Copy) is compatible with operating systems like Windows XP and the XP Professional x64 Edition. Apart from this, is also supports Windows Vista and the popular 7 Mac OS X versions of 10.5.8, 10.7.x and 10.6.x

Power Consumption

Epson has brought economical printer which consumes power of around 220-240 V.

Warranty

You will get 1 year manufacturer's warranty on purchase of this durable printer by Epson. It will surely be one-time investment which will print papers for long.